Embedding a bookcase on your website allows your readers to view the content of your publication without leaving your website. This can add interactivity to your website when you want to keep your customers on your website.
Note that your bookcase can only be created with a domain name from flipbuilder.com, so you need to upload your flipbook to our flipbuilder server. Any content that you upload to flipbuilder is available, flexible and safe as long as you have our online host service. You can get our Hosting Add-on Service in two ways below:
1. Pay-as-you-go (Buy Points)
You can buy points depending on your demand. One point is $1.1 or less to keep one book online for one month. The more points you order at a time, the more discount you will get. New register can get 5 free points!
Make sure your points are enough to pay for the books in your account. Once your surplus points are not enough to pay for all books service, the system will enable a related number of books and disabled the other ones.
Recommended for users who have less than 10 books to upload, or who only need to keep the book online for a few months.
2. Subscribe
FlipBuilder Hosting Add-on Service offers Monthly (US $9.99/month) and Yearly (US $99.0/year ) subscription. Please remind that:
*The Maximum upload Limit: 1,000 books
*You can stop the subscription at any time as you want.
*The subscription will auto renew based on your preferred period.
To embed your bookcase into your website, you need to get embed code first. Here is how you can do it in four steps:
Firstly, log in your Flipbuilder account and upload your flipbook. #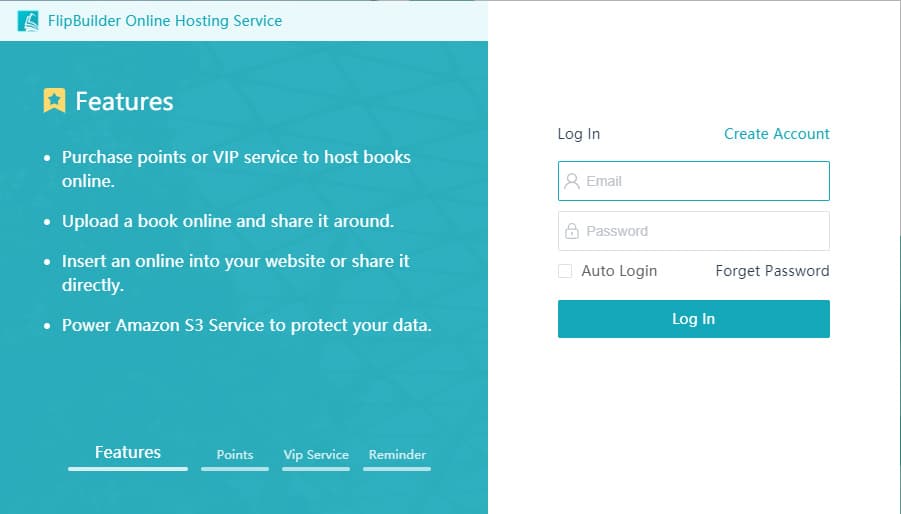 After logging in your account, click [upload online]. You can add title, keywords, and description for your flipbook. Then click upload.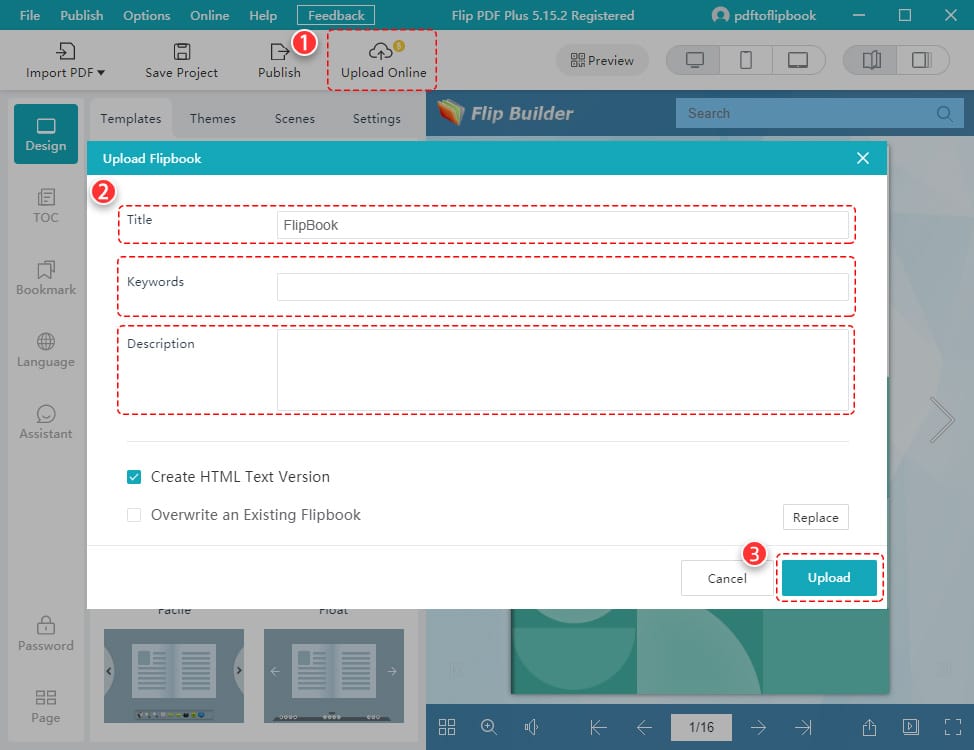 Secondly, create your bookcase. #
After finishing upload, you will see a pop-up window. Click [Manage Online Books].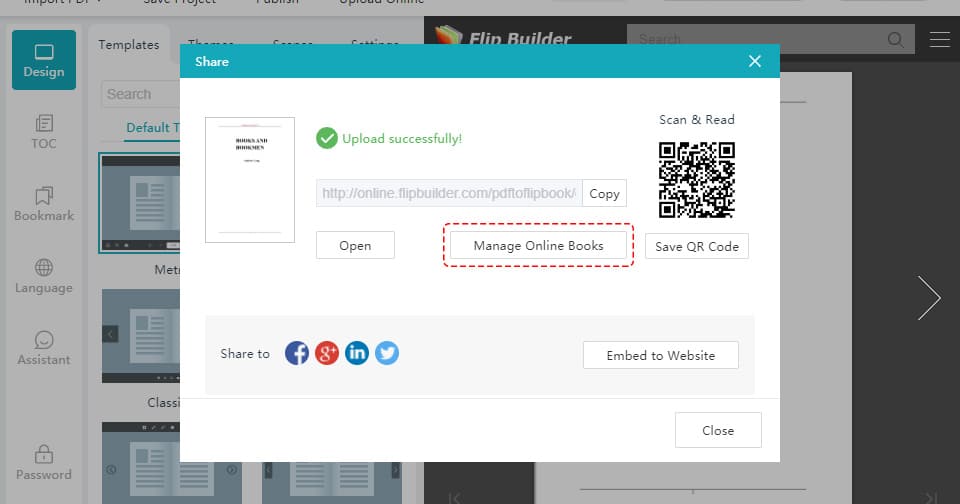 Then you will automatically jump to the homepage of Flipbuilder. Click [My Bookcases] and you can see your bookcase.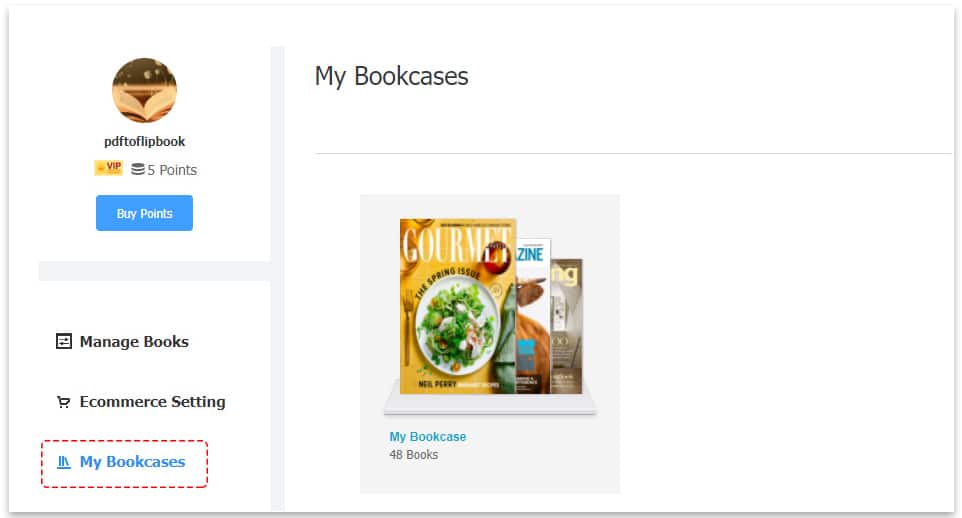 Thirdly, embed your bookcase on your website. #
Open your bookcase> choose [Embed]

Then copy the Embed Code below.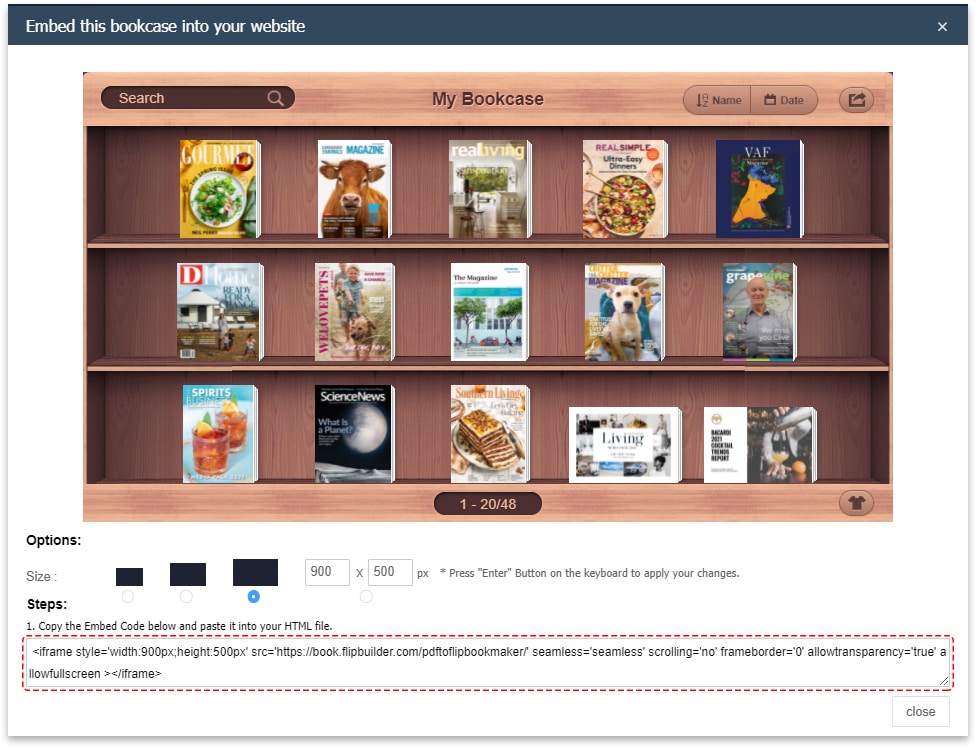 Finally paste it into your HTML file. #

Now you have successfully created a bookcase and embedded it on your website.